Value of real estate
Standards and best practice of evaluation

Second edition, unmodified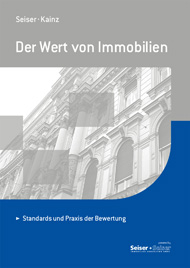 Author
Baurat h.c. Dipl.-Ing. Franz Josef Seiser MRICS
Techn. Rat Ing. Franz Kainz (†)


Format
17 x 24 cm; circa. 1300 sites, bundled


Price
€ 159,– incl 10 % tax,
plus shipping costs

Currently out of print!
An indispensable work of reference for expert witnesses, property companies, banks, insurance companies, chartered accountants, tax advisers, lawyers, notaries, courts, estate agents and property managers, property developers, and trainees.
State of the art in science and practice
Comment to Liegenschaftsbewertungsgesetz (property valuation law) and to ÖNORM B 1802
Extensive treatment of value assessment procedures
New application possibilities to easily solve problems
Detailed value assessment of benefits / burdens
International valuation standards
Plausibility checks of valuation reports
Many valuation examples and much more
Their long-term valuation experience and the findings gained from teaching and lecturing activities have reinforced the belief of the authors that the valuation literature published in Austria needs to be supplemented and newly oriented enabling property experts to carry out even more complex valuations with advanced methods by taking into consideration international standards in addition to performing valuations by applying standard valuation assessment procedures.

In a market economy prices are formed according to market conditions and the valuation assessors reflect these prices in their valuations. The property expert's knowledge of economic relations increases the demands made on today's value assessments. First of all, this book applies to the experts of specialist groups, but it shall also facilitate the assessment of valuation reports for courts, authorities and institutions.

Due to its practice-oriented presentation this book can also help newcomers as well as trainees in the property business to understand the increasingly more difficult issues of property valuation, and it may also serve as a textbook.